Summit Contracting Announce Business Acquisitions
Summit Contracting Announce Business Acquisitions
Summit Contracting is pleased to announce the acquisition of Signs 4 U of Platte, SD and Dozy Signs of Chamberlain, SD.
The acquisition will merge both companies' effective September 1st, 2022, creating several opportunities including business growth, new jobs, and revitalization of an existing building on Platte's main street.
Jonna DeHaan started Signs 4 U in 2011 and has been operating out of her current location behind the Lyric Theater. Jonna specializes in signs, banners, equipment and vehicle logos, window decals, wall quotes, canvas pictures, tile messages and more. Signs 4 U and Summit Contracting have had a close working relationship over the years with Signs 4 U supplying vinyl graphics and business signage for Summit's various locations and equipment. Jonna DeHaan, Owner, Signs 4 U, said "I am happy to have my sign business continue with such a reputable company. I know Tyler and the Summit team will continue to support my existing customers."
Dozy's Signs has been in business for 27 years in Chamberlain, South Dakota. Doug "Dozy" Dozark and Todd Priebe started Dozy's signs in the basement of Doug's house and in Todd's fathers barn, hand painting signs. Today, they are leaders in digital banners, billboards, LED message centers, pylon signs, interior and exterior lighted signs and vinyl graphics.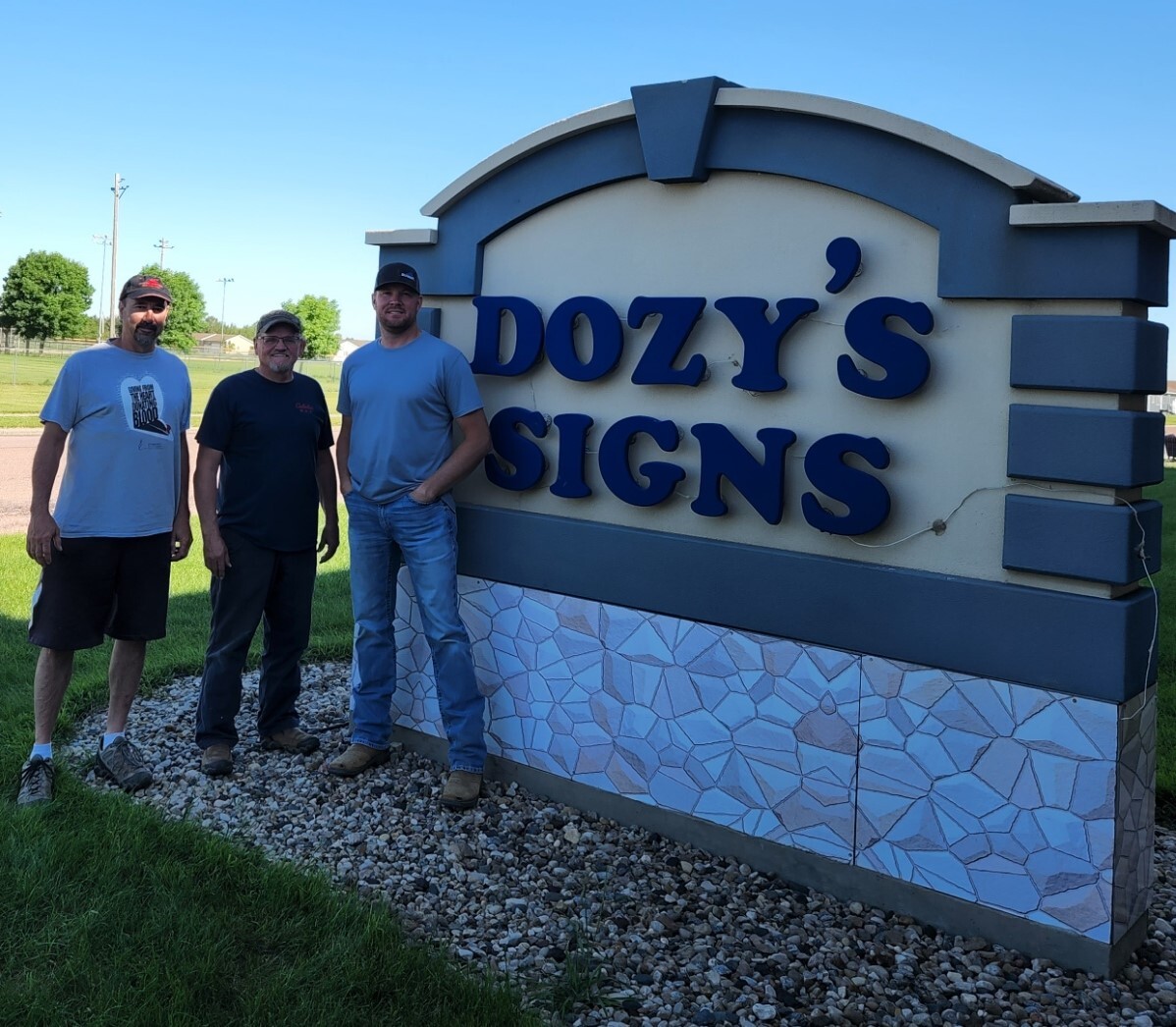 Jonna will remain with the business during the time of transition. Gretchen Munger, a Platte native, will become the new Manager effective August 1st. She and her daughter, Presley, will relocate to Platte in time for the school year.
Todd Priebe will continue as Lead Salesman. Tess Ringling will continue her role as graphic designer on a part-time basis while completing her education at Southeast Technical College. Summit Contracting will provide tuition reimbursement with a commitment from Tess to return as a full-time graphic designer. After 18 years, Chelsie Reddick (Samuelson), has decided to hang up her scissors and join the team; serving as a Customer Service Representative, starting in September.
"It's amazing how well this has come together, certainly did not envision Summit getting into the signage business, but we see this as a great business opportunity for our staff and the Platte community" states Tyler Samuelson, CEO, Summit Contracting. "Both companies have provided great service to many businesses in the area, we want to continue to serve those customers and reach new customers. The merger of these two companies allows us to offer a greater variety of sign products for business and individual needs."
As if purchasing two businesses was not exciting enough. Summit Contracting is thrilled to have also garnered ownership of the former IGA building in downtown Platte from Jeff and Jackie Olsen. This solid 7,000 square foot building is just the right size for the staff, install team, and equipment necessary for business growth. "We are excited to give the building new life and support economic growth on Platte's main street," states Tyler Samuelson.
Pending a brief remodel, the newly merged companies will move into their new home around the first of September. Todd Priebe will work remotely from Chamberlain ensuring continued service and products are available to the Chamberlain area. Current contact information for each company will remain active during the transition; Signs 4 U phone number (605) 337-2686 and Dozy's Signs phone number (605) 234-6814 and website www.dozysigns.com.