Summit Contracting Welcomes New Shareholders
Summit Contracting is pleased to welcome new shareholders as of January 1st, 2022.
Tyler and Katy Samuelson started Summit Contracting in 2009, primarily building post frame buildings. Since then, Summit has grown by taking care of our employees and customers and by providing outstanding quality and service in everything we do.
Summit's values are integral to who we are. That is why we hire people who share our principles and blend with our professional family. In January 2022, Ken Reddick and Josh Kramp joined Summit Contracting as shareholders of the company.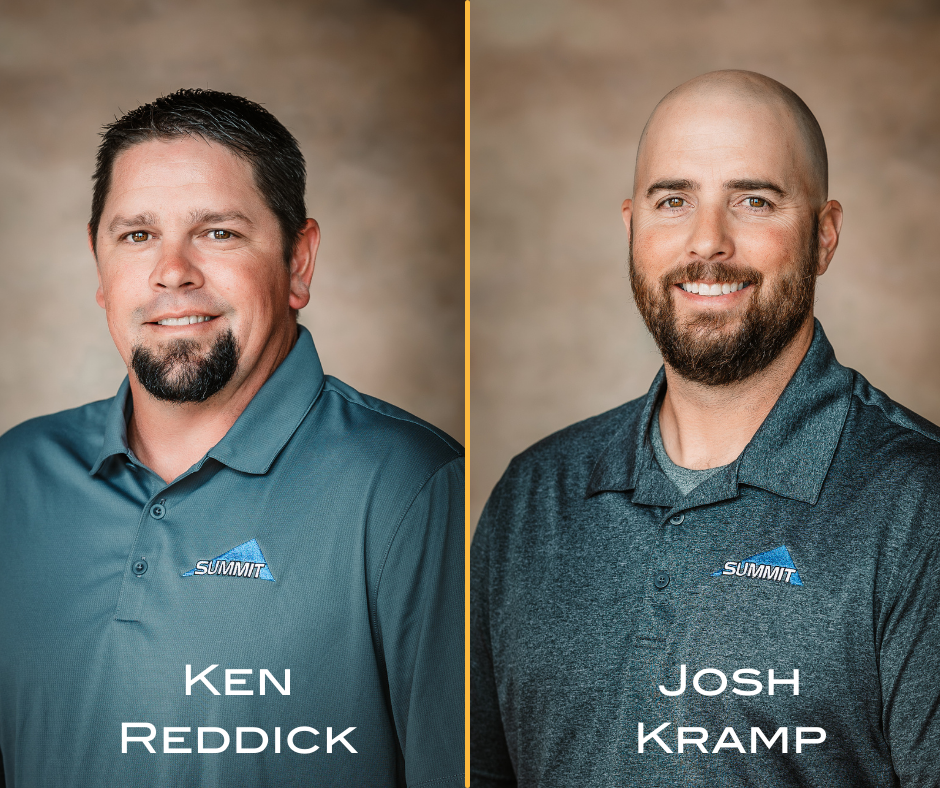 Ken joined Summit in June of 2013 on the building crew. Ken has rose through the ranks and currently serves at the Director of Building Operations. "Kens construction knowledge on day one was about as low as it gets, but his dedication to his guys and his exceptional work ethic has earned him every right to be where he is today. The commitment he has shown for this company is now being rewarded," states Tyler Samuelson, CEO, Summit Contracting.
Josh currently serves as the Director of Grain Operations for Summit. Josh came on board with Summit in April of 2017 as a supervisor on the grain systems millwright crew. "Josh has grown up in the business and our customers have been hard pressed to find anyone with more industry knowledge than Josh. Josh and his wife Christina are some of the best people you will ever meet. Having them both on our team here at Summit has been a true blessing," Tyler Samuelson noted.
"We know that our employees are our greatest resource, which is why we are proud to employ the absolute best and love to see them take pride in projects we build. We are humbled to have Ken and Josh join our shareholders team," adds Tyler Samuelson.
Ken and Josh will join current shareholders Jerad Hutchens (South Dakota Market President), John Southwick (Nebraska Market President), Steven Bultsma (Chief of Operations), Abby Storm (Chief Financial Officer), Patrick Veurink (Iowa Market President), and Tyler Samuelson (Chief Executive Officer).
Summit Contracting is a self-perform and full-service on farm construction company specializing in post and steel frame buildings, grain bins, grain system millwright, excavation including water and sewer, crane services, concrete, and electrical with locations in Platte, Pierre, and Brookings, South Dakota; Seward, Nebraska; and Sioux Center, Iowa.